Writing and publishing a nonfiction book that showcases your expertise and experience can act as a powerful magnet for new and better clients as well as speaking engagements, media features, and more. But only if you've done it right!
Feeling unsure if your idea is focused enough to achieve your goals?
Worried if your book has a clear promise that will appeal to your target readers?
Do you have limited time and want to make sure you're working efficiently?
Want to know where your major problems are before you start writing so you can fix them now and create a better, stronger first draft?
You don't want to end up with a mess...
​
I spent my earliest years in book publishing working with all kinds of books, but my favorite has always been prescriptive nonfiction—that is, books that help people to do something, resulting in a positive transformation.
And when I went freelance and started book doctoring for some of the biggest publishers in the business, that's the type of book I chose to focus on.
With this focus, I learned a critical piece of information that has served me ever since, whether I was book doctoring, ghostwriting, or editing and consulting with authors. And that piece of information was this:
If you don't start with a clear, strong outline that is appropriately "dialed in" to your goals for the book and your target reader's needs, you're going to end up with a mess.
It's no accident that publishers generally make nonfiction book deals on the strength of a proposal and NOT a completed manuscript draft. They want to have input on the outline (which you create for the proposal) so that they can influence the book concept and make sure you have the right roadmap that will get you through to writing the book they know will sell and satisfy your target readers (and their customers).After years of providing this kind of service to agents, publishers, and their author-clients, I figured out how to translate it into something more accessible to every author.
With the Get Off Your Draft! Evaluation, one of my highly skilled and deeply experienced nonfiction specialists will review your book's outline and edit it, asking questions, making comments and suggestions, and prompting you toward changes you may need to make in order to ensure that you write a book that achieves your goals and pleases your target reader. After you've had a chance to review the feedback, you'll get on the phone with your editor to discuss any questions you might have, brainstorm solutions, and generally make sure you're clear on how to move forward with fixing your outline and starting to write your book.
Writing a memoir or other narrative type of book? My team of editors are trained in almost all commercial categories, and we can apply the same service to your memoir or novel outline (while looking for key factors specific to those book types, of course).
HERE'S HOW IT WORKS:
​
You sign up below, which will take you through to payment and then to a form that will gather some important information from you about your project. You'll also upload your outline.

We'll be in touch to let you know when your service will be scheduled and when you can expect to have the feedback returned to you.

You get back to business while we review your outline. We'll be in touch with the feedback via email and instructions on how to schedule your phone call.
​
That's it! Just a few easy steps now can help you avoid a world of headaches later.
​
You'll receive feedback like…
​
Is your promise clear and does the content all support your ability to deliver on this promise?

Is the content suited to the target audience you've identified?

Does the number of Parts or Chapters seem appropriate for the content without overwhelming readers?

Are your topics clearly related and organized to take the reader on a successful journey?

Do your subtopics appropriately seem to explain and support the topic of each chapter?

Does each chapter provide its own "mini-journey" structure?

Will readers learn what they need to successfully complete their journey from "A to B?"

Is there anything missing that readers in your category will need or expect?

Are there opportunities to make your book even more unique and useful to your readers?
​
WHAT OUR CLIENTS ARE SAYING...
​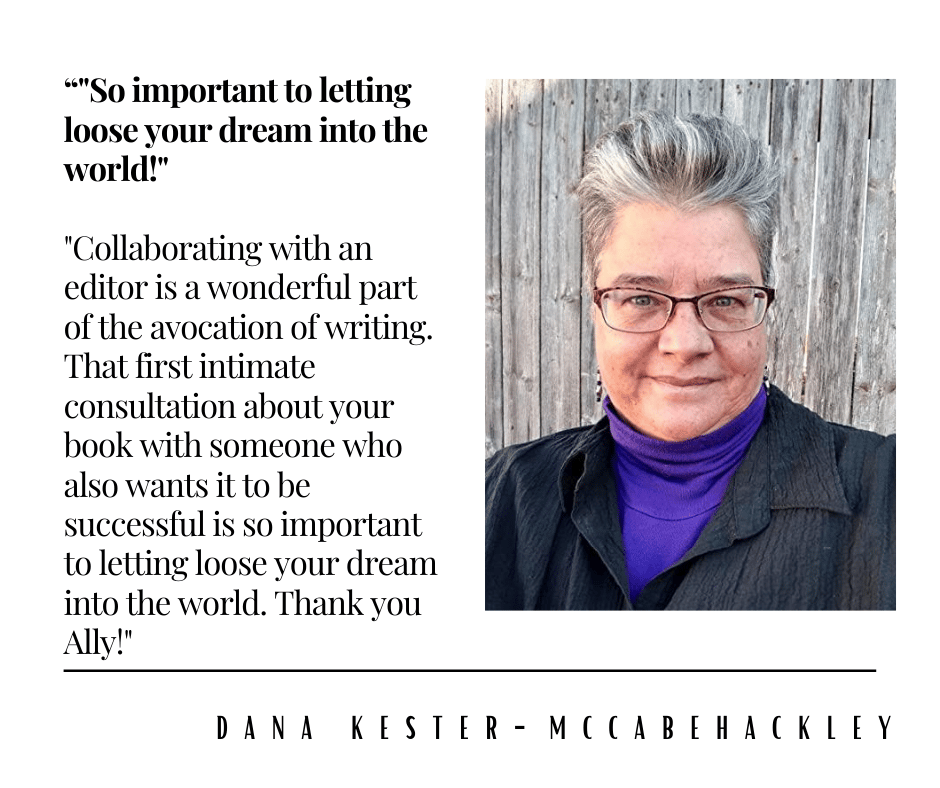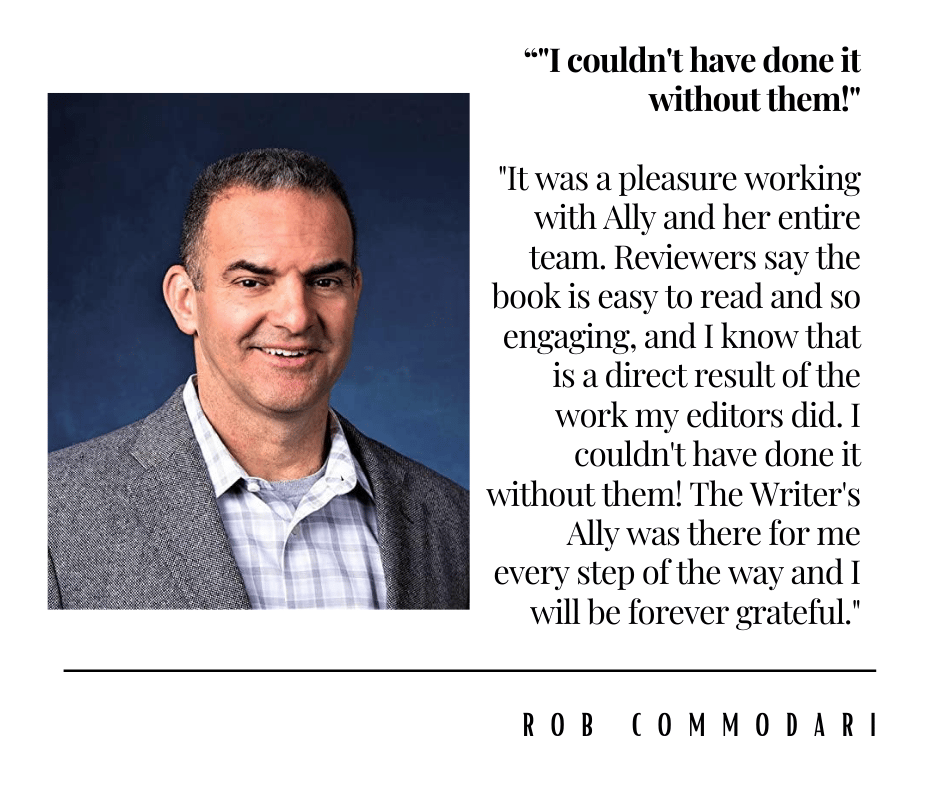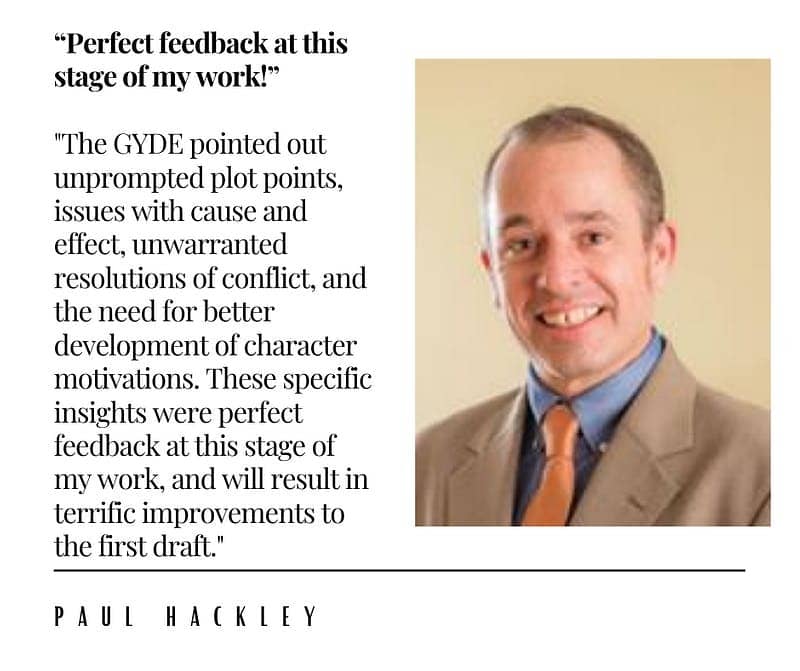 ​
STILL HAVE QUESTIONS?
What if I'm not finished with my outline?
Your outline doesn't need to be perfect—in fact, the whole point of this service is that your outline probably isn't perfect just yet. If you've done the work of the challenge, you should have a roughed-out outline that you can get feedback on. Take a couple of days to really finish fleshing it out to the best of your ability, if you need to, but don't take too long! This offer is only good until Thursday, August 6th at midnight Eastern.
Do I have to submit the outline I worked on for the challenge?
Nope! Of course, the offer is designed to help keep you moving forward from the challenge so you can ultimately write your nonfiction book in less time and with less stress, but if you have a different book outline you'd like us to evaluate, that's just fine by us. We're here to help.
Can I take advantage of this even if I'm not writing a prescriptive nonfiction book?
Yes! We do GYDEs for memoirs, novels, and other narrative books as well as prescriptive books. IMPORTANT: If you would like your GYDE performed on your memoir or novel outline, please email me first for more details because it works a little bit differently than for prescriptive nonfiction. Email me at [email protected] and tell me you'd like the GYDE and for what kind of book.
But don't I need to start writing the book before you can tell how well it's working?
Absolutely not. In fact, getting professional feedback on your outline before you start writing is a real pro trick—this is how most nonfiction books are done in the traditional publishing world. Now you too can have the benefit of an experienced editor help make sure you're on the right track before you start writing, which will help you write a book that can compete on the crowded shelves.
Let's recap...​
​
You could just dive in and start writing, but without a clear, appropriate, and effective roadmap, who knows where you will end up?
With the Get Off Your Draft! Evaluation, you'll get professional guidance you can count on and feel confident in your plan. You will receive comments and suggestions on your written outline and a phone call to discuss your outline in more detail so you can be absolutely sure that you are:
pursuing the right book idea for your goals

writing a book your ideal readers actually want and will buy

delivering on the promise to your readers so they're happy

giving your readers the true benefit of your experience and expertise

and perhaps most important of all, creating an engaging, transformative experience that leaves your reader satisfied and wanting more!
​
And remember, if your book isn't directly related to a business goal, you still need to think like a business owner, because at the least you need to deliver a story that your target readers will want to buy, read, and leave positive reviews for. My team of editors are trained in almost all commercial categories, and we can apply the same service to your memoir or novel outline to make sure your story hits the right notes, fits audience expectations, and is generally compelling enough to get your reader from page one to "The End!"
TIME TO GET MOVING WITH YOUR BOOK!
​
Click the button below to secure your Get Off Your Draft! Evaluation now. It's first-come, first-served!
You'll be taken through the PayPal shopping cart to purchase, then will be redirected to a form.
This form is important, so be sure you fill it out completely and to the best of your ability. It'll ask you for information about your book idea, your target audience, your business, and a few other things that are helpful for your editor to keep in mind during the evaluation. (Again, if you are writing a memoir or novel, DO NOT complete your purchase here--email me at [email protected] for details.)
At the bottom of the form, you'll see a button asking you to upload and attach your outline file. Please save your outline as a Microsoft Word doc. That's our preferred format.
You'll receive a confirmation email so you'll know your submission went through.
We'll be in touch within a day or two to let you know when you can expect your GYDE results to be delivered.